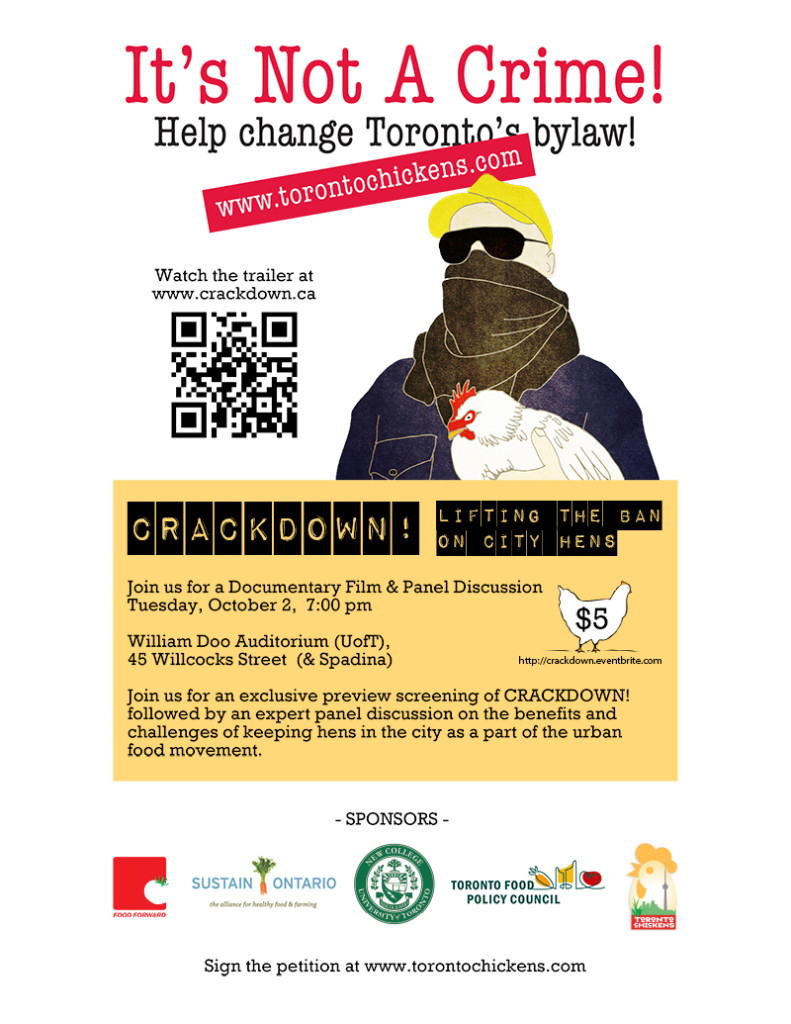 Come to see the movie Crackdown! – this Tuesday at 7:00 p.m.
Crackdown! is a short, creative video that takes a satirical look at what it means to raise chickens in your backyard – and become a criminal for doing so. CRACKDOWN! – Lifting the Ban on City Hens Tuesday, October 2, 7:00PM William Doo Auditorium (UofT), 48 Willcocks Street Join us for an exclusive preview screening of CRACKDOWN! followed by an expert panel discussion on the benefits and challenges of keeping hens in the city as part of the urban food movement. PANELISTS:
Matthew Bailey-Dick (Waterloo Hen Association)
Chris Schafer (Canadian Constitution Foundation)
Dr. Barry Pakes (public health specialist, ER and primary care physician)
Anonymous Toronto Chicken Keeper
Carolyn Young (Sustain Ontario)
Joe Mihevc (City Councillor)
Jan Keck (Filmmaker)
Moderated by Lorraine Johnson   Get your tickets here: http://crackdown.eventbrite.com/   Tickets are $5 (+fee) on eventbrite and there will also be tickets available at the door for $8 (cash only). If you are unable to attend the screening due to budgetary constraints, please email jan@red-gecko-productions. We are committed to making this an accessible event. All the proceeds are going towards financing the film and ultimately in eductaing the public about urban chicken keeping.