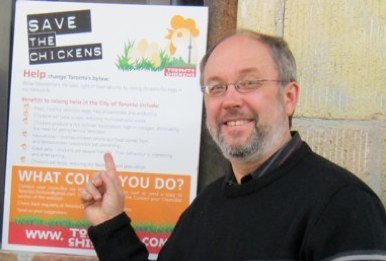 Licensing and Standards Committee
Yesterday, Councillor Joe Mihevc moved that City Council direct staff to prepare a report outlining a strategy that will allow residents to keep backyard hens in a safe and appropriate manner. The motion was seconded by Councillor Mary-Margaret McMahon.
The next step in the process happens on February 24, 2012 at the Licensing & Standards Committee meeting. It is at this meeting that a decision will be made to take the issue to City Council. We would like to meet with each of the Committee members to provide information on the responsible keeping of backyard hens. If your Councillor is on the committee, one of our core members would love to accompany you on a meeting within the next couple of months.
Please let us know if one of these 6 members of the Committee is your Councillor:
Not sure who your Councillor is? Just just check here.
Finally, here is a copy of Member Motion 14.8