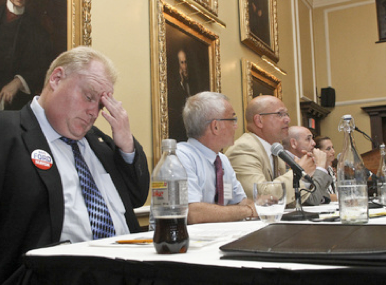 Mayoral candidates, from left, Rob Ford, Joe Pantalone, Rocco Rossi, George Smitherman and Sarah Thomson, debate the issues. TARA WALTON/TORONTO STAR
Toronto Mayoral Race
So, I contacted each of the candidates and asked whether or not they support the responsible keeping of backyard chickens in Toronto.
Winner:
Joe Pantalone – He responded clearly supporting backyard chickens, "with certain reasonable conditions and restrictions."
It is interesting to note that he also received top grades from the Toronto Environmental Alliance's survey. He received a grade of 100% – A+!
Rocco Rossi responded with a non-commitment to chickens, but rather positive on local food.
No response at all from the others.
If you have a moment, now would be a great time to contact your local candidates to find out about their positions on both backyard chickens and the environment.
Please post back here with the results.
Thank you!!!